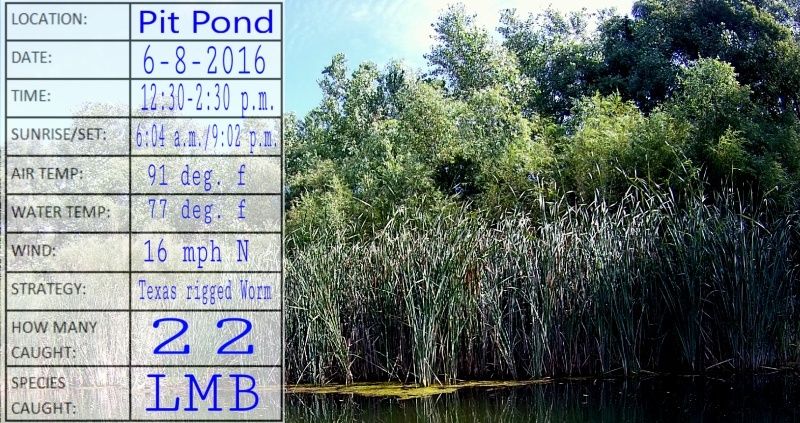 Last night I put new line on all my reels. Plus I bought a new rig and wanted to try it out. I wanted to do this before I go fishing this weekend. This morning it looked as if the only chance I would have to get on the water would be at about noon today. Not exactly a good time to fish for Bass, but a good time to go and do some final adjustments to the new Cumberland and try the new Okuma rig.
My biggest concern was getting skunked! I figured I could just use the maintenance trip excuse if I did.

As I expected it was hot! The water temp, however, was superb at 77 deg. It felt really nice to get in the water.
As soon as I paddled out I made a few final adjustments to some attachments and set up my rigs.
First cast and BLAM! A nice 15 inch Bass gobbled up my Texas rigged plastic worm. I couldn't help laughing out loud.

 I was pleased that I got rid of the skunk on the very first cast.
Third cast and I get a large strike but he grabs some serious air spits my worm back at me. I couldn't believe the action I was getting in the heat of the day. But by no means was I complaining.
My technique was simple; toss my wiggly right to the edge of the moss beds and let him drop. This apparently was irresistible to the Bass as they slurped up worm after worm, putting on the good fight.
This impossible battle continued for two hours! Not all made it to the tube for a lap dance but most of them did for a total of 22 Bass!
I was giddy as I drove home. I have chuckled at people in the past for fishing during the heat of the day and then complaining because they couldn't even get a bite. Never again will I tell them they were wasting their time fishing during the heat of the day.
So if you're thinking that going Bass fishing during the heat of the day is futile...think again!