7-10-2016 Pit Pond Report
What do you do when it seems like all your doing is house painting, Landscaping and Hotrod building? Go fishing! And so that's just what I did.
I awoke very early Sunday morning to prep everything for fishing. Hot coffee with my favorite music to sharpen my fishing psyche. Sip coffee, run through the checklist and load it all in the truck.
I arrived at the Pond ready to slay some Bass. The first thing I noticed was the weed beds and moss. As I had predicted earlier this year, they are in full blown mode!
This is usually bad news to a lot of Anglers as so many of them don't know how to fish in the weeds. This however, is good news to me. I love to fish in the weeds. That's where the Bass like to hang out!
The air temp was very nice at 66 deg. The water was a perfect 80 deg. With everything setup on the tube I started my fishing day.
I began with a Top water frog. After only a couple of casts I got a beautiful attempt by a rather large Bass that was near sighted. My green frog was making nice little hop frequencies on a moss bed when Mr. LMB erupted through the moss! It was a beautiful thing to behold...except he misjudged the frogs location by about six inches.

I took this to be a bad omen. So I decided to throw a plastic worm out and let it drop. WHAM! Bass on! I fought him to the tube where he did a nice lap dance and posed for a pic. I said goodbye to pepe le pew and sent him on his way.
It was a perfect day of fishing! I alternated between my frog and worm. I had lots of action on the frog. I even caught two LARGE Bull frogs on it! I wanted to get pics but they are incredibly strong and slippery. No sooner than I got the hook clear and they launched themselves back into the water.
I hooked a rather large Bass under an overhanging tree on the water. We fought for about 15 seconds when he dove hard and snapped my line.
Lots of great strikes on the frog, but ultimately the plastic worm was King. Four Bass for the worm and two for the frog. I guess if you count the frogs, it was four to four!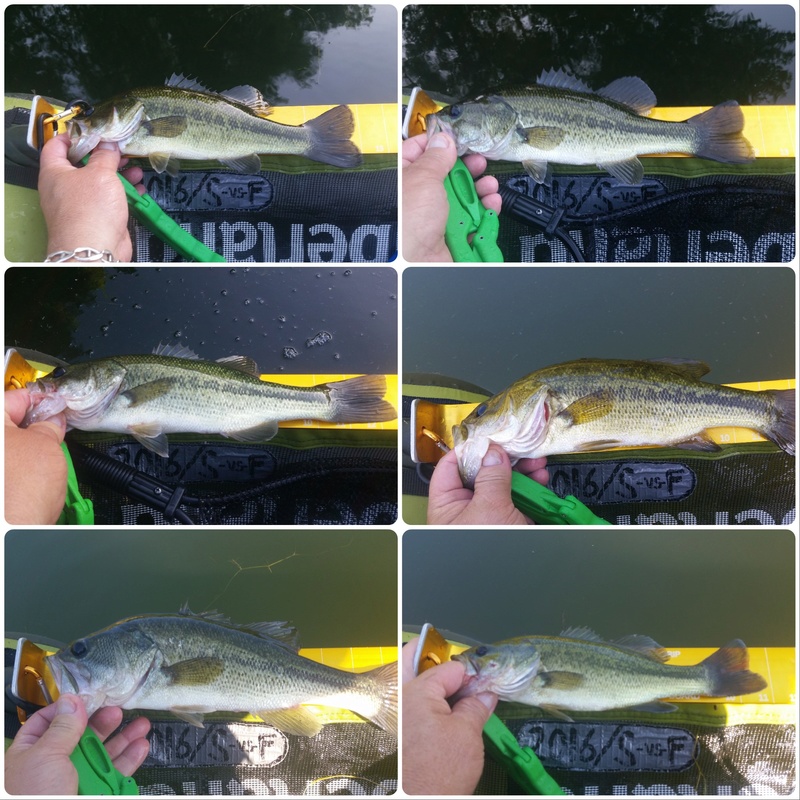 Thanks for checking out my report...Tight lines!